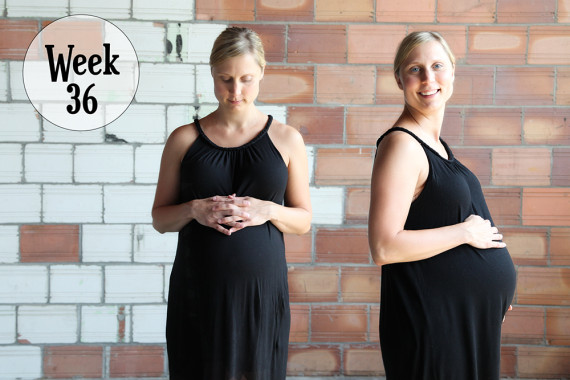 Our little bambino is the size of a honeydew melon (again) or head of romaine lettuce.  She's still packing on the pounds and is growing at the rate of an ounce a day.  She now weighs almost 6 pounds and is about 18-19 inches long.  I'm excited to say that at the end of this week she's considered full-term.
This week I spent a few days at school working but the remainder of the week at home preparing the house and the nursery as well as shopping for a few things I needed to decorate the nursery.  Dusty went with his Grandma to visit his Aunt and Mom (who's already there visiting for a while) in Indianapolis.  I was a little sad not to be able to go but it's getting a little close to our due date to be thinking about getting on an airplane so I spent the entire weekend doing a lot of cleaning, sewing and spending some time with friends and family, keeping myself busy.  
Gender & Name: It's not a surprise that we're having a little girl but everyone's second questions is about the name.  We've started talking about names again.  We thought we had a name and we think we still might have a name but we've decided to do a little more thinking to see if we've chosen the right one so, because of our indecisiveness, we're not making it official until we meet her.
Weight Gain: Not only is our little bambino gaining a lot of weight, so is mommy.  I gained 3 pounds this week.  I blame it on a weekend-filled with eating.
Maternity Clothes: Lots of maternity dresses, maxi dresses and maxi skirts with maternity tops.  The weather's still cool (in the 80s) and it's been lovely.  I don't dread going outside or being in my car.
Sleep: I'm still having erratic sleeping patterns but can go back to sleep relatively fast.  I was never a huge pillow person but these past few months I've been adding more and more pillows slowly.  Now I'm up to four, one for my head, one for my back, one to prop up my belly and one between my legs to help with my back and belly as well.
Food: Not a lot of specific cravings this week but I sure have been hungry.  There was one night that Dusty took me on a walk and I wanted a root beer float.  This isn't completely out of the ordinary because there have been times in the past (before I was pregnant) that I craved a root beer float but lately I've wanted chocolate ice cream so I guess I was ready for a switch.
My emails and books say that I might get heartburn right about now because of the way the baby is laying and pushing up against everything but I haven't had any problems (which I feel grateful for).
Movement:  This week our little bambino has started to slow down a bit.  Towards the beginning of the week she was doing a lot of moving but as she continues to get bigger I can tell she's snuggling up and can't kick and punch like she did before.
Belly Button:  We have an outie!
Mood: I had another good week.  Every once in a while I feel stressed because I want to get so many things done during the day (and feel like I would if I wasn't pregnant) but get worn out relatively easy.  I'm learning that I have to do a little of this and a little of that and then come back to it a few hours a later.  I went shopping earlier in the week and after three hours found myself in the car parked at one of the stores feeling so worn out that I decided it was time to cut my errands short and go home.
I was a little down towards the end of the week but that all has to do with me getting a bit of a summer cold.  Friday evening I started having a sore throat, which led to me barely sleeping that night.  By Saturday evening I was going through a lot of tissues and blowing my nose constantly.  I still have it but it's a bit more manageable.  I hate summer colds under normal conditions but being pregnant and tired and not able to take any kind of real medicine makes it a little more difficult.  I hope this cold is gone very soon!
Pregnancy Symptoms: I most definitely feel some of the third trimester symptoms of pregnancy.  I didn't realize how much pelvic pressure I'd have.  I know, over sharing a little much but our little bambino must really be getting ready for birth.  I no longer walk but waddle and I still have some back pain.
I'm getting better at knowing how to prevent it or feel less of its effects.  We learned at our baby class last weekend that sitting on a workout ball could help and it does, so any time I'm sewing or sitting I try to use the workout ball.  And then what also helps is to just not be in the same position for a long time.
Best Moment(s) This Week: Best moment(s) this week were going to our doctor's appointment, they're now weekly until we deliver our little bambino, attending book club, ordering prints for the nursery, and spending some time with friends and family this weekend.  There were so many wonderful things that happened this week!  I think that normally they might not make my best moments list but the closer I get to delivery the more the small things seem to really matter.
Exciting news, I'm officially 1 cm dilated and the baby's heartbeat sounds good.  It's a start and we'll see this next week how things are progressing.
As it gets closer to my delivery and knowing how little I might get out of the house for a while little things like getting together with girlfriends is becoming a priority.  I had a great time laughing with everyone at Book Club and listening to everyone's stories from the past month.  And then this weekend I met up with a friend for a pedicure and more girl talk.  I also was able to sit by the pool with a couple other friends and then to end the weekend I went to paint pottery with my mom, sister and her kids.
Missing Anything: This week I really missed Dusty.  He left early on Thursday to visit his family so I've spent a lot of the week by myself and miss him being around to talk to.
I've also been missing the ability to exercise like a normal person.  At book club there was a lot of discussion about exercising and eating healthy.  I was a little jealous that I wasn't really able to participate much.  Exercising because of the baby and the healthy eating because it just doesn't sound all that much fun when there's ice cream calling my name across the street.  But in all seriousness, I bought pregnancy exercise videos, which I did quite a bit while I was in Paris, but haven't gone back into since we've gotten back to the States.  Just today I decided to try and fit small amounts of exercise into my daily routine.  I think it'll help with some of my soreness as well.  And so today I walked on the treadmill and did part of my pregnancy exercise video.  It was a nice feeling! I'll be excited when I can really start exercising though and use something a little heavier than 3-pound weights!
Looking Forward To: I'm looking forward to saying that I'm full-term next week.  I'm also looking forward to my weekly doctor's visits to see how I'm progressing.
Weekly Picture:  This week's picture was taken at the Mastercraft building and was taken by Bridget, one of the interns at FlyWheel because Dusty was gone the last part of the week.  I'm wearing one of those black maternity dresses from Target that I've mentioned in previous posts and live in most of the time.  I have three different styles and wear them constantly.
***My weekly posts are written during the week and then posted the following week, after I've taken my weekly picture and I've had time to edit them.***