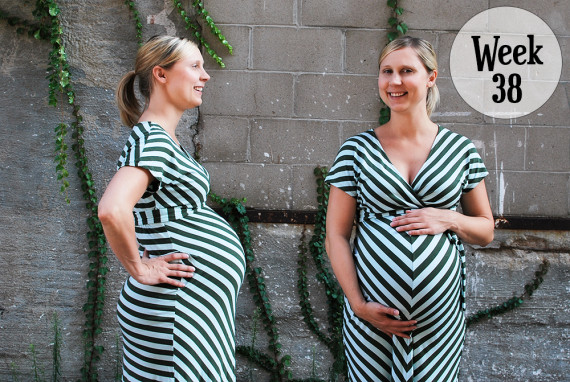 It's so hard to believe that these weekly posts are getting so close to ending and baby updates will be here before you know it.  Our little bambino weighs almost 7 pounds and around 19 1/2 inches long, about the size of a leek or watermelon or even pumpkin my weekly emails say. Our little girl's organs are developed and functional so she's ready to join us anytime! We've started to wonder what she'll look like. Dusty even found a website that can calculate the likelihood of the baby's eye color.  There's about an 85% chance she'll have brown eyes like her daddy and a 15% chance she'll have blue eyes like me.
This week I finished up my two summer classes, packed our hospital bags and worked on the nursery (it's so close to being done and can't wait to share pictures of the room with everyone).  Dusty's been working harder than ever but we still found time this weekend to get away from our computers and spend some time together.
Weight Gain: I gained 1.5 pounds this past week and have gained a little less than 25 pounds overall.
Maternity Clothes: Same as last week, clothes are most definitely getting tighter and I'm trying to get as much use out of all of my maternity clothes as I can even though I'm sure I'll be wearing them for a while after our little girl arrives.
Sleep: Sleeping is difficult but expected.  My body is getting ready for our little girl and all of the sleepless nights I'm going to have. There have been several nights that I wake up at 3am to use the restroom and won't be able to go back to sleep because I'm wide awake.
This weekend I decided I was ready for this baby to come and was so excited that she might come that I couldn't sleep.  I'm feeling very lucky that I'm not working full-time right now and can rest or take a quick nap in the afternoon if I need to.
Food: No specific food cravings but I still need my desserts.  I'm trying to eat a lot of small meals and drink a lot of water during the day.  I'm still having heartburn and indigestion if I try eating mexican, or eating too late or too much at one time.
Movement:  She's ramped up her movements again.  I think she's fighting her way out or is just getting excited about meeting her wonderful parents!
Belly Button:  We have an outie!  Starting to really miss my old belly button!
Mood: I'm excited and a little anxious to meet our little bambino.  It's such a waiting game at this point that parts of my day go really slow and other parts go really fast.  All of a sudden the last 8 1/2 months seemed to have gone like the blink of an eye and these last two weeks have crawled by at a snails pace.
Physically I feel really good and am so glad that part has been easy but it still doesn't mean that I want to wait those last few days (plus some) to meet our little lady.  I've convinced myself that she's not coming early but at the same time I wake up every day and think, "Today may be the day! Are we ready?"
Pregnancy Symptoms: As I mentioned earlier, I'm having a little heartburn and indigestion, which is normal at this point.  I feel like I'm swelling up a bit but everyone else says that I'm crazy so I'm going to believe them and feel lucky.  My back isn't hurting nearly as much as it did a few weeks ago but I'm most definitely feeling pressure on my pelvis.
Best Moment(s) This Week: One of the best moments is being able to say that we only have two weeks left (or around that many). We had another doctor's appointment on Tuesday and I'm dilated to 2.5 to 2.75 cm.  Not quite a whole centimeter this week but close.
We had a couple of great things happen this week.  One was getting a surprise from Dusty's mom and having her come home from a long trip that we thought would keep her out of town until the baby arrived.  We've also talked to our dad's and their families and both are planning on making trips to Omaha in the near future to see the bambino when she arrives.  I feel as though she can come anytime now, knowing that our families are here or will be here shortly after she's born.
Other highlights were Dusty going golfing, me visiting friends from college, venturing out to the Maha Music Festival, and then going for a late night dinner date at one of our favorite restaurants on Saturday.  It was a great Saturday away from the house, work and computers.
Missing Anything: Being able to make plans and know that it'll actually happen!  Yes, things are changing and we're about to find out what it's like to have another human being in charge of our lives (but I'm so excited)!
Looking Forward To: I'm looking forward to Omaha Fashion Week this weekend (unless we have an early arrival).
Weekly Picture:  This week's picture was taken near our apartment in the Old Market.  The dress is from Target.
***My weekly posts are written during the week and then posted the following week, after I've taken my weekly picture and I've had time to edit them.***