Last summer while in Paris Dusty said that he really wanted to have steak and frites.  He ended up getting his steak frites at a nameless bistro one night while we were out but it was a huge letdown.  This summer we were on a search for the best (or at least a better) steak frites.
On a side note, I don't think I've mentioned how much research Dusty does on a city's food scene before and during our trips (why I call it research I don't know because he really enjoys reading about food).  Well, let's just say he spends quite a bit of time making sure we eat well.  He did some digging into the best steak frites in Paris and after some due diligence he thought we should try Le Relais de l'Entrecôte.
Le Relais de l'Entrecôte is most definitely known for their steak frites, probably because this is the only thing they serve.  They have two locations in Paris and don't take reservations.
Each evening a line forms outside the restaurant before they open at 7pm.  We arrived at 7:05pm.  As you can see from the pictures, the line was long.  We were a little worried we might not get in with the first seating and would have to wait (normally not a big deal unless you're pregnant and have been walking around Paris all day).  It is a big restaurant though so we got lucky and got a table just fine.  We did see others show up shortly after us who had to wait until the next seating.
So, after getting seated our waitress handed us a drink menu and simply asked us in French, "medium or well done?"  I thought our waitress was very pleasant.  There is no menu because seriously, the only thing they serve is steak frites.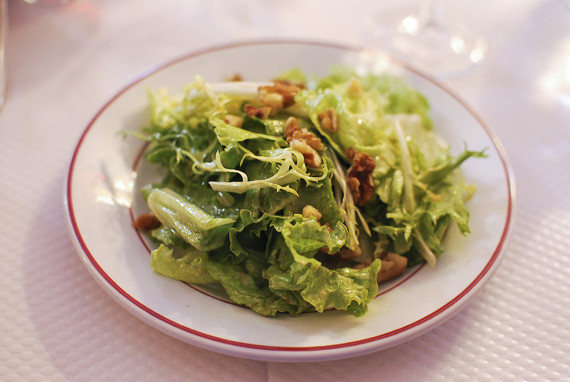 Next came out Dusty's wine, a lettuce walnut salad that's included with the meal, and bread.  The salad was very simple but I thought delicious.  It comes with a mustard vinaigrette which Dusty thought was a little too spicy for him (it's a spicy dijon mustard vinaigrette I'm assuming) but I thought it was perfect.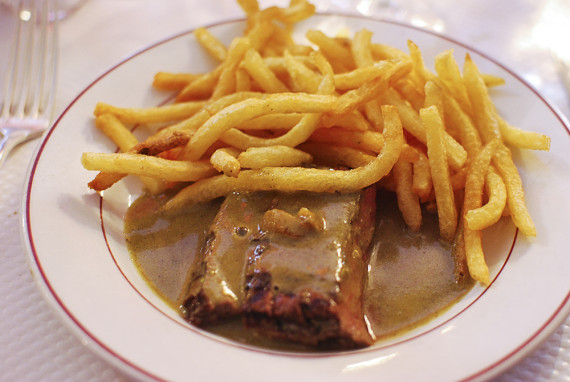 After our waitress picked up our salad plates she brought out plates of steak frites with this delicious greenish sauce n the steak for each of us.  Each person's dish is presented in two servings.  You receive a plate-side portion of steak frites and once you're done, they bring you out a second helping that is put on your plate.  Both the steak and frites were really good.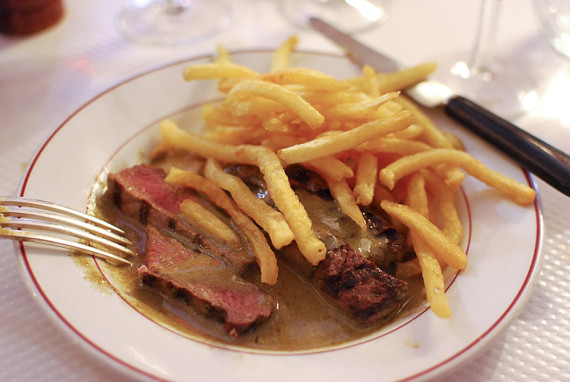 The whole process is quite interesting to watch.  The sauce was really great and important to note.  When Dusty had his steak frites last summer one of the letdowns was the sauce but Le Relais de l'Entrecôte's signature sauce was delicious.  According to one of the blogs I follow and a newspaper article on the restaurant, the sauce is made from chicken livers, fresh thyme and thyme flowers, cream, white Dijon mustard, butter, and water, plus salt and pepper and in my opinion, why the restaurant is such a success.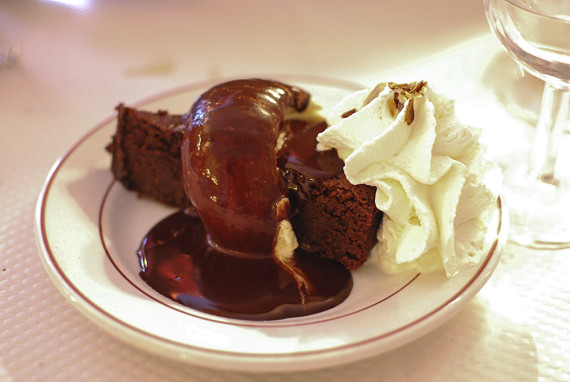 Dessert is optional.  At the end of the meal we were given two dessert menus, one written in French and one that had pictures of the desserts.  We shared some type of delicious chocolate cake/brownie with ice cream and whipped cream.
It was the perfect steak frites dinner (especially for someone who's pregnant and doesn't always like making choices).  The salad, steak and frites meal cost somewhere around 28 euros each and the dessert was an additional 7 euros.  If you're looking for choices this most definitely isn't the place for you but if you're looking for a nice steak frites then I would highly recommend.