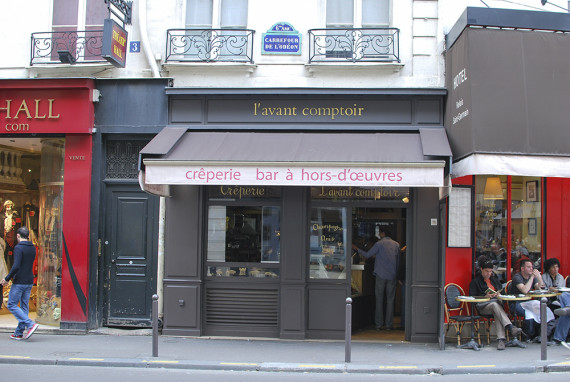 The other day I wrote about our beautiful dinner at Le Comptoir du Relais and mentioned that Chef Yves Camdeborde also has a little standing room only wine shop next door that serves small plates called L'Avant Comptoir.
This was another spot we really wanted to try because of all the hype. We had walked by a time or two but were always on our way somewhere and we were a little fearful because when I say "standing room only" I really mean it.  I'm not quite sure how many people can actually fit in the place (there's some debate as to how many people can fit) but in comparison to any spot in the US, the place is probably the same size as the hallway to the restroom in your favorite restaurant.  And there's always a crowd.  But don't let this scare you off, the food and wine were beyond words delicious and the atmosphere is great!
L'Avant Comptoir can be described as a little piece of gastronomic delight that serves phenomenal small plates (our favorite thing to eat) as well as equally delicious wines. One late afternoon we were in the neighborhood and walking by noticed that there were only a few people in the place.  After a little hesitation we ventured in.  Thank goodness our first encounter was on this slow late afternoon because on most evenings getting the bartender's/chef's attention is for the fierce and mighty and for newbies an afternoon visit was perfect.  The staff was very pleasant and welcoming the afternoon we went.
After settling up to the counter and carving ourselves out a spot we were given a wine list and told to look above our heads for the food menu.  Plastic menu cards hanging from the ceiling with pictures and a small chalkboard with a few additional special charcuteries told us all we needed to know for food.  There were also crepes being sold out the street-side window (which I want to try the next time we go).
After checking out the menu cards as well as some of the small plates others around us were eating, we picked a handful, ordered and waited for our adventure to begin.
On the counter there was a jar of delicious homemade pickles, a basket of bread and a plate of butter for all patrons to share.  Just a side note, something I love about Paris is the communal bread.  I know people will say how unsanitary this is but I really enjoy how it makes me feel like I'm at home and the person next to me is my friend.  Everyone's sharing.
Needless to say, everything we ordered was amazing!  It was so much more than I had expected from such a small place.  Each dish was sophisticated with complex tastes yet simple at the same time.
The second time we went we ended up meeting up with some Omaha friends who were visiting Paris.  We were there during peak hours and it was a lot of fun.  Once you know how to wiggle your way up to the bar (or your husband knows how to do it), order and then find yourself a cozy spot somewhere you're set!  I wasn't drinking (pregnant, remember) but everyone else shared a bottle of wine and a few small plates.  We stood outside the door because there was no room inside and then became friends with the other patrons.
I'm not sure what my favorite part is about this place, the number of people who squeeze into this phenomenal little place (something that would never happen in the States–the police wouldn't let you), the unassuming but delicious food, or how you see both locals and tourists shoulder to shoulder drinking wine and enjoying each others company.  If I can offer one piece of advice, go during off-peak hours or be prepared to get to know the person next to you!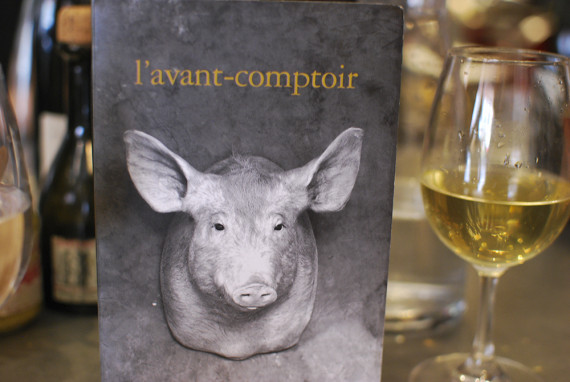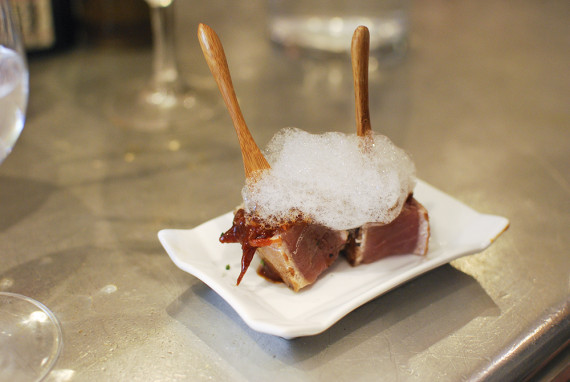 Tataki de thon (Seared tuna tataki)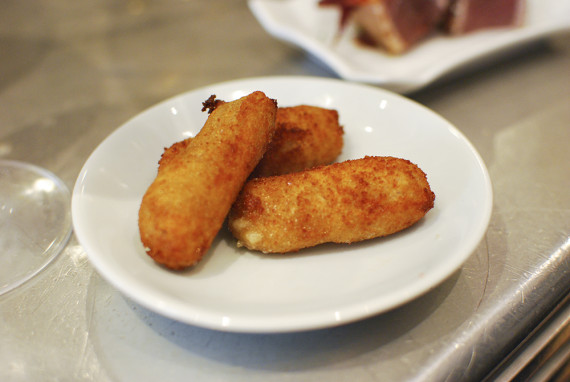 Croquettes de jambon (Ham croquettes)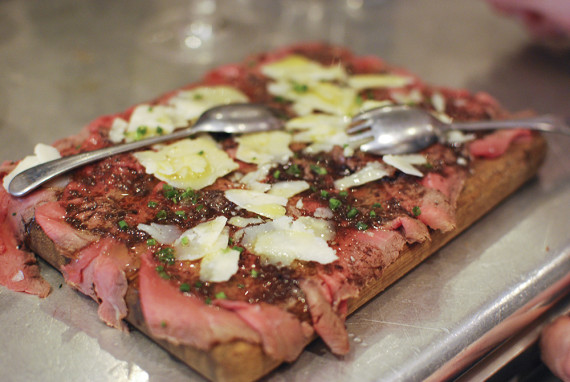 Carpaccio with parmesan and olive oil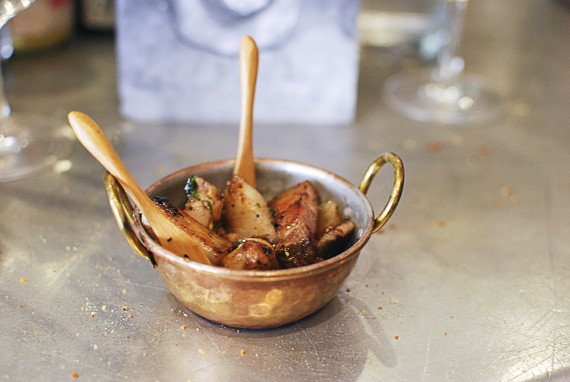 Poitrine de porc caramelisee (Caramelised pork belly)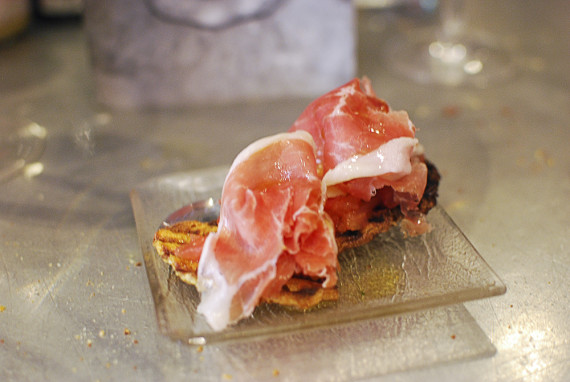 Lou regalet bearnais tomate-jambon (Bruschetta on toasted baguette topped with ham)