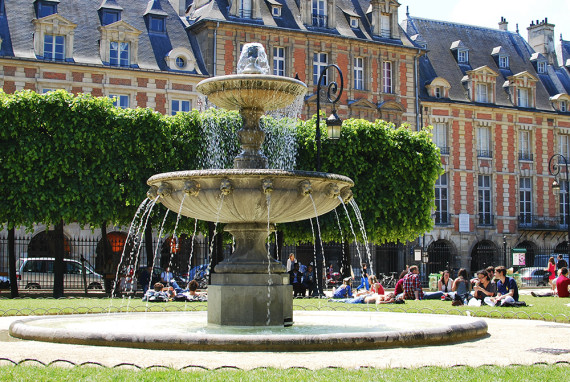 Close to our Paris apartment in the Marais district was an amazing little park, the Place des Vosges.  The Place des Vosges is the oldest planned square in Paris and was another item on my Paris Bucket List.  Knowing Dusty was going to be busy with work most afternoons I planned to go the park as much as possible to get out of the apartment, enjoy the weather and do a little people watching.  What I love about this park is that it's an actual square and you must enter by going through one of the archways that lead you from a bustling busy street to this elegant park.
Just a little history on the Place des Vosges, it's originally known as the Place Royale, and was built by Henri IV in 1605.  The architecture consists of nine pavilions (houses) per side. The two highest, at the front and back, were for the king and queen (but were never used). Beneath the arcades are cafés, art galleries, and restaurants.
There's a great park culture in Paris.  I'm not an expert but Parisians spend a lot of time at parks.  I saw many Parisians at the park over their lunch hour eating a baguette and meeting friends.  I  saw school-aged teenagers eating their lunch (McDonalds was a favorite) or meeting with their friends after school.  I saw couples snuggling up together on blankets.  I saw parents and nannies watching children running around the square (and maybe next summer we'll be watching our little bambino crawl around the park as well).  I went to my little hidden park a handful of times and every time I couldn't help but notice how breathtaking the scenery was.