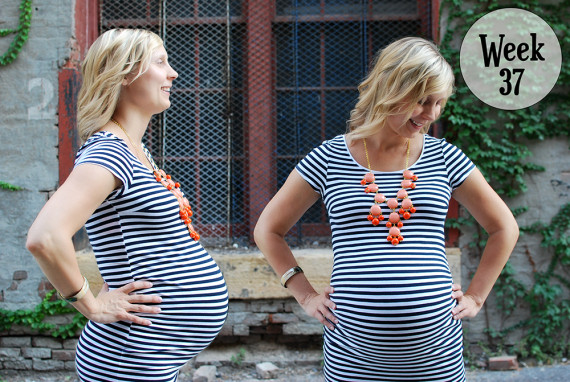 Our little girl is the size of a winter melon.  She's 's reached full term!  She measures over 19 inches and weighs over 6 pounds.  I spent most of my time this week wrapping up my summer classes, working on some DIY things for the nursery, and visiting friends.  Dusty came home from his family trip and went back to his usual busy work schedule.
Weight Gain: I gained 2 pounds this past week for a total of 23 pounds over the past 8 1/2 months.  Those pounds are coming on fast though!
Maternity Clothes: Clothes are most definitely getting tighter and I'm trying to get as much use out of all of my maternity clothes as I can! I'm wearing all of maternity dresses, maxi dresses and maxi skirts with maternity tops.
Sleep: Sleep is an interesting thing.  Some nights I'm exhausted and have a great night while others I feel wide awake and stay up later than Dusty and then am up way too early the next but still very awake and alert. Our little bambino is getting me ready for those crazy sleep schedules that so many new moms talk about.
Food: I went to Whole Foods this past week to meet up a couple of girl friends and my cart was filled with cookies, banana bread, chips, guacamole, bananas, mangos, hamburgers, lentils, and a few other random assortment of foods if that tells you anything about my cravings.  I'm craving salty and sweet but easy is the key! It's getting to the point where making an elaborate, nice dinner doesn't sound nearly as much fun as something easy or just walking to one of our favorite Old Market dining spots.
Movement:  She's still movin' and groovin'. I'm feeling a lot of hiccups, which my books say are normal, she's just getting to take those real breaths when she arrives.  You can tell she's no longer doing flips but just adjusting and doing a little stretching here and there.
Belly Button:  We have an outie!  Starting to really miss my old belly button!
Mood: I'm feeling really good.  Dusty was gone for five days and I was most definitely missing him by the end.  As it gets closer to the baby's arrival it's fun to share all of the little things with Dusty and with him being gone I found myself wanting to call him just to tell him that she was moving or what was happening that day.
Sometime between Monday night and Tuesday morning we lost our air conditioning.  Everyone keeps talking about how horrible it is to be pregnant in the summer because of the hot weather.  I haven't felt that way just because we spent so much of it in Paris where it was cool and now that we've returned I spend most of my time indoors since I don't work full-time in the summer but Tuesday I found out what it was like to be hot.  It really wasn't bad in the apartment until I was getting ready to leave and at that point realized how horrible life could be with no air conditioning.  We spent the night with family until it was fixed the next day and I was happy to come home to a cool apartment!  Baby and I were very happy!!!
The only thing bringing me down this week is that I'm still getting over my summer cold.  I hope it disappears soon because this stuffy, runny noise and cough is getting a little old.
Pregnancy Symptoms: As I mentioned last week I'm feeling the aches and pains of carrying around our gorgeous little girl all day but I've been trying to do more stretching and light exercise which seems to be helping a lot.  I do have a little heartburn at times but that's just when I eat too large of a meal so instead I'm sticking to small meals throughout the day.
Best Moment(s) This Week: One of the best moments this week (and every week now) is going to our doctor's appointment.  I'm now dilated to 2 cm and we're going in the right direction.  I'm hoping for a bigger jump at our next appointment but all is good with the bambino and I'm expecting that we have at least 2 more weeks before she arrives!
Other fun stuff that happened is that Dusty surprised me with two awesome gifts!  The first one was popcorn from Nuts on Clark.  They sell it at the Chicago airport so he picked me up some on his layover.  My favorite surprise was a baby gift for the nursery from a local artist, Amy Quinn, of Plaiderpiller, who sews beautiful stuffed animals and clothing.
Other highlights were having a couple of date nights with Dusty and getting together with friends.  No sitting around waiting for the baby arrive for us, we're making all kinds of plans to do fun things these next couple of weeks!
Missing Anything: Being able to go shopping for clothes!  I went to the mall to exchange something for Dusty and I was dreaming about the day I would be able to wear all of my cute clothes again!
Looking Forward To: Showing everyone our maternity pictures! We got them back and they're so beautiful!  I'm looking forward to being able to work out again and be more active!  This slow pace is really starting to get tiring!  I'm also looking forward to Omaha Fashion Week, one of my favorite times of the year.  And the #1 thing I'm looking forward to is meeting our little baby girl! I've just started to count the weeks instead of months.
Weekly Picture:  This week's picture was taken near our apartment in the Old Market.  I'm wearing an H&M Maternity Dress.
***My weekly posts are written during the week and then posted the following week, after I've taken my weekly picture and I've had time to edit them.***