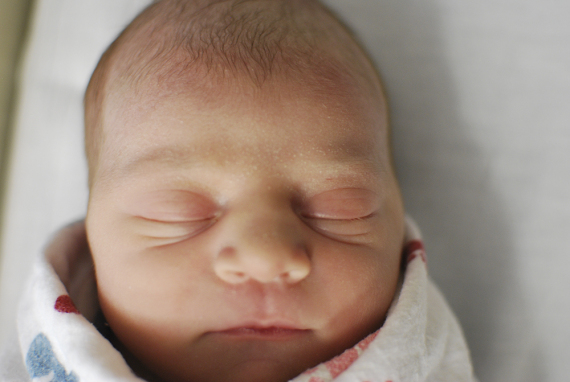 Our little Miss Annabelle celebrated her first birthday a few weeks ago and with its arrival I began thinking about her birth. What's kind of fun is that she was born right before fall classes started last year and so this year as I was preparing to start the semester I had some wonderful memories to help me get through those first few days. I've been wanting to write down the details of her birth just so we'll be able to remember something years from now and thought this was the perfect time.
Annabelle's birth story actually starts about three days before she was born. What can I say, I love long stories. I went in for my 39 week checkup on a Tuesday and was about 3 cm dilated. Not a big deal considering I'd been dilated for a couple of weeks. While lying in bed that evening I felt something wet. I'll skip over the details but needless to say, I thought my water had broken. No contractions or pain though. I was all giddy thinking that we might be having a baby and couldn't sleep at all.
I called my doctor the next morning and they had me come in, although they were pretty sure I just peeped my pants (and that's exactly what had happened). Yes, this is normal. During pregnancy you have poor bladder control and it finally got to me!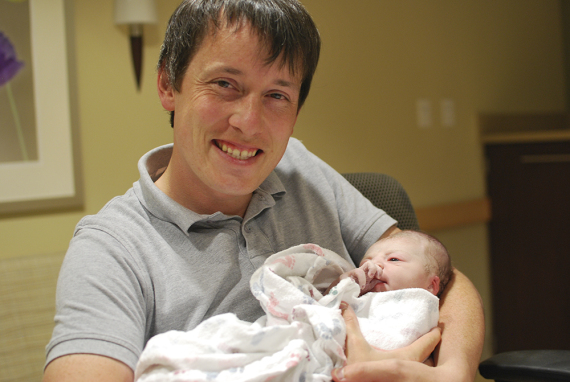 Wednesday afternoon went as usual and I actually gave a short presentation that evening at work. As we went to bed that night I started to feel different. So descriptive, I know! I'm not sure what it was but I thought I was starting to have contractions. I actually cleaned the house thinking that if I did go into labor I wanted the house to be clean when we got home from the hospital (yes, I'm a bit crazy). And of course, didn't sleep at all that night either! Now that I've actually had "real" contractions, they weren't. It might have been some type of Braxton-Hicks (preterm) contractions.
Thursday Dusty went to work and my plan was to hang out. I continued to have very small contractions and spent the day timing my contractions using an awesome app I downloaded on my phone. When Dusty came home that evening I told him I was pretty sure something was happening. We waited (and waited) and finally called the hospital to let them know what was going on. Although painful, the contractions were very manageable (and I felt like a rockstar that I could handle them, but little did I know these were nothing compared to what was going to come). They said we needed to wait and try to get some sleep, that the contractions weren't close enough together. I tried to sleep with little success (I was going on night three with little to no sleep). Finally a little after midnight we headed out with our bags all packed.
Once we got to the hospital and got checked-in, one of the nurses checked me out and I was about 3-4 cm dilated. The nurses were very happy to see I was dilated this much but knowing that I'd been dilated almost this much for days, I didn't think it was such a big success.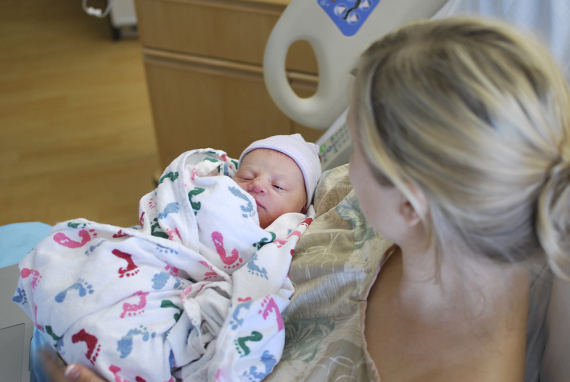 Throughout my pregnancy, the philosophy I always believed in (which I read about and grasped instantly on the Babywearing International blog) on a birthing plan was to try to have a natural birth but if I had an epidural or had to have a C-section, that was just fine. So we started out the evening drug-free. We walked around the hospital hallways and tried to rest a bit in between. Then the contractions really started. Dusty and I were walking around the hallways and a contraction would come on and absolutely overtake me. Dusty was a trooper! He tried to help me breath through it and would even try to make a joke or two but I was having none of it. Poor guy had to deal with me giving him dirty looks for breathing on me, for even talking to me while I was going through a contraction, and jokes, those didn't last long.
We went back to the room after a while to rest and lay down. After realizing I still was only dilated a few more centimeters, that I was completely exhausted because I was going on three nights with very little sleep and knowing that it was probably going to take many more hours to have this baby, I decided to have the epidural.
The epidural happened and all of a sudden having a baby was fun! It was like night and day. Dusty's jokes were all of a sudden funny. We both were able to take a much needed nap for a few hours. And I even invited our families to come to the hospital to see use before Annabelle was born.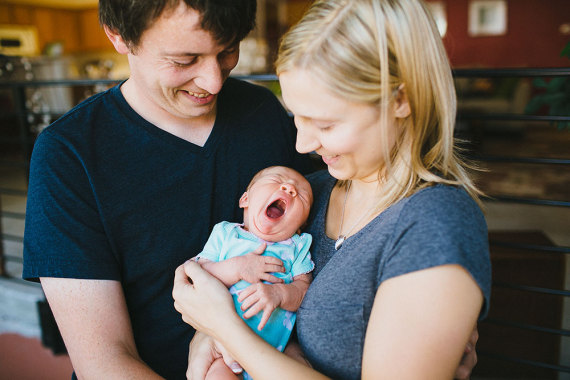 Sometime in the late morning, part of the epidural started to wear off just a bit and I could feel the contraction on half of my body. It was a really interesting feeling, to first, have gut retching contractions before the epidural, then to get it and to be able to sleep through them, and then for it to wear off a bit and to know what was going on again.
At some point late Friday morning the nurse checked me and my water had broken. Then I was dilated to 9 or 10 and they were calling my doctor. I got all prepped for pushing, my doctor came and we started the process of actually having a baby. Once I started pushing I realized how glad I was that I had gotten the epidural and got some sleep before getting to the really hard part! I wish I could say I pushed three times and adorably cute Annabelle popped out but it was quite a few pushes later that it finally happened.
Annabelle joined us Friday, August 23 at 1:29pm. She weighed 7 lbs 9 oz and was 21″ long. I feel so lucky to say everything went smoothly and there were no complications.