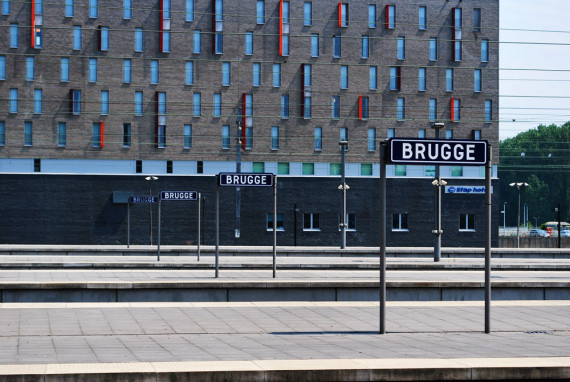 After a day and a half in the big city of Brussels we got on a train and headed to Bruges.  Bruges has beautiful canals, great architecture, and idealic cafes.  If you're wondering about the spelling of the town, it's Bruges in French and English, and Brugge in Flemish.
After getting off our train into Bruges we jumped onto a bus to Bruges' Market Square, the heart of the city.  In the square is the bell tower, which has been there since 1300.  We climbed the 366 steps of the tower to get a sense of the town.  In front of the bell tower sits two french-fry stands and as you might guess french fries are big in Belgium as well.
During our tour of the town we visited the Basilica of the Holy Blood which is famous for its relic of the blood of Christ, which, according to tradition, was brought to Bruges in 1150 after the Second Crusade.
We also went to the City Hall and the Church of Our Lady.  In this beautiful church there is a statue of  Madonna and Child by Michelangelo but to our dismay, this section of the church has been sectioned off and costs what at the time seemed like an unreasonable amount of money just to see the statue.
Kate and I spent two days exploring this beautiful little town.  Some highlights of our time in Bruges included the food and beverages of course.  Chocolate.  There are small chocolate shops all over this quant town where you can get an  assortment of Bruges' best pralines which are filled chocolates. We toured a chocolate museum where we learned the history of chocolate and how it's made in Belgium today.
Waffles are maybe one of the best things I found in Belgium and nothing like the breakfast food you get in the states.  It's eaten as a dessert or afternoon snack, alone or with whipped cream and chocolate sauce.  Belgium is also known for it's mussels and fries and of course, we had to have some!
Bruges is one of those towns that missed the 21st-century bus and is full of Old World charm.  And the reason why I loved this town so much!