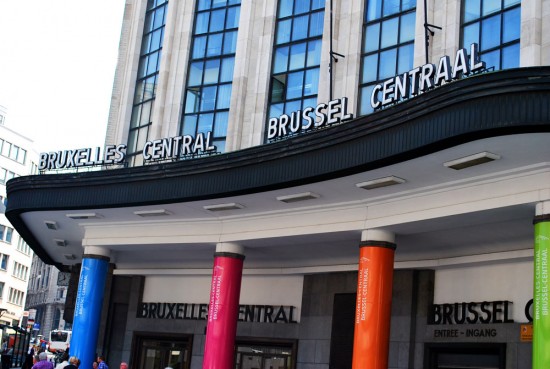 While in France this summer one of my good friends and co-worker, Kate was able to visit and do all of the wonderful touristy things with me while Dusty worked.  Kate and I took a trip to Belgium and visited two of it's major cities, Brussels and Bruges.  We met in Brussels and then made our way to Bruges after a day and a half of sightseeing.
Brussels was most definitely the big city.  The city is the capital of Belgium and the European Union.  The city's main square is called La Grand Place and is the heart of the old town.  The main square is where we spent most of our time.  We toured the Museum of Modern Art and the Magritte Museum, honoring the Surrealist painter René Magritte.
One fun fact is that Brussels has one of the most interesting mascots. Its mascot is the Manneken-Pis, a statue/fountain of a little boy who looks like he's peeing.  Of course, we made sure to find time to have a few glasses of Belgium's beer and eat lots of chocolate.  I did try a few "real" beers but tended to choose the cherry-flavored Kriek and strawberry-flavored Frambozen as my beer of choice.  Both are well huge in Belgium.  There are hundreds of different kinds of Belgium beers as well as chocolate.