Le Chateaubriand is one of the cool places to go if you're a foodie in Paris, at least that's what we've read and what some of our foodie friends say.  Dusty was able to get us reservations last night and the chef, Iñaki Aizpitarte, was did a superb job.  The word we came up with to describe the food was "interesting".  Dinner was unique, even for a bid city where there are an abundant number of creative chefs.  They served a prix-fixe menu and we selected to have the wine pairings to match.  We had several amuse-bouches along with our courses, including two desserts.
The staff was very friendly.  We were shown our menu and given an excellent description of each dish.  The dishes had an interesting combination of ingredients that somehow went well together.  There were a couple of times that we had no idea what something was, even after asking our waiter.  Our wine pairings, I do believe, made the dishes so much more.  They paired well with the dishes and were very much like the dishes, interesting.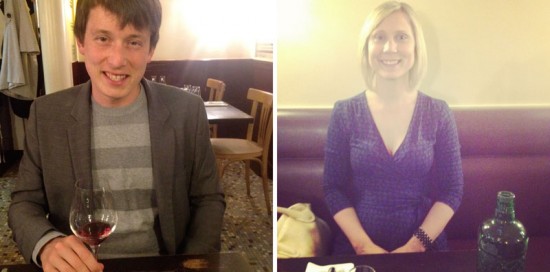 Dusty's favorite dish was the green one. It was describe as "risotto of samphire".  I had no idea what samphire was but Dusty did a little researching and found out that there are two different kinds, we had marsh samphire. Marsh samphire has "vibrant green stalks, similar to baby asparagus, with a distinctively crisp and salty taste".  The dish was most definitely salty.  The green stuff on top tasted like seaweed but other than that, I have now idea what the green liquid was or how it was even made.  Many of the other dishes were much the same, we knew what one or two ingredients were but couldn't tell you any more than that.  My favorite dish was the second dessert, which was a caramelized egg yolk on a cookie.  The cookie reminded me of a macaroon but when we tasted it alone it was almost like cotton candy, both in taste and texture.  You were supposed to eat it in one bit and it was amazing!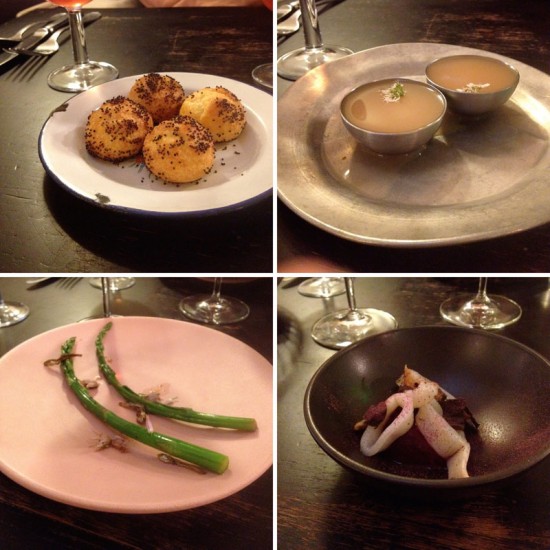 Amuse-bouches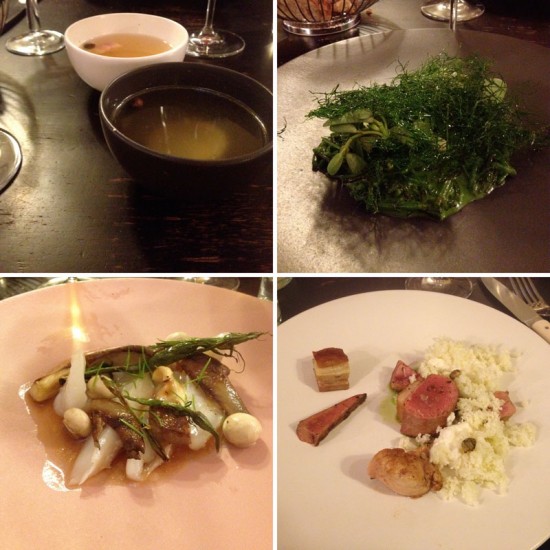 top left: fish broth; top right: risotto of samphire; bottom left: cod, mushrooms & asparagus; bottom right: lady lamb 6 ways with a shredded white vegetable and mascarpone cheese (or something similar to it)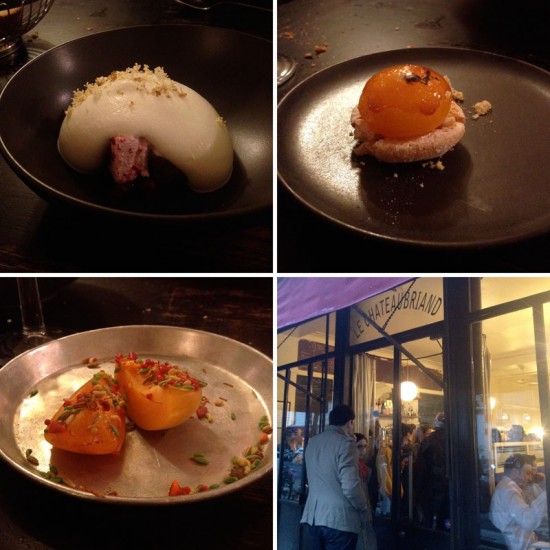 top left: fluffy whipped marshmallow or cheese with berries; top right: caramelized egg yolk on cookie;
bottom left: seeds on melon; bottom right: people standing in line when we left