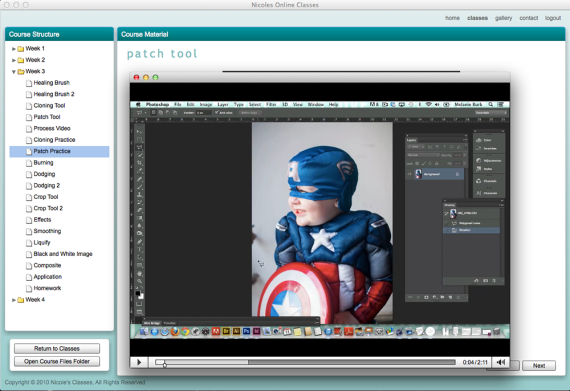 This week in my Photoshop 101 class I learned: Retouching images; Healing tool, cloning stamp, patch tool; Burning, dodging, smoothing skin; Cropping; Effects (drop shadow); Black and white images; and Composite images.
My favorite part this week was learning the differences between the healing tool, cloning stamp, and patch tool.  You'd use one or a combination of these tools when someone has acne or a blemish that you might want to fix or when something is out of place that you might want to remove (random person standing in the background).  I've used the cloning tool quite a bit but as I've learned this week, sometimes all you need is the healing tool or a combination of the healing tool with the cloning tool will produce a better image.  And I'm already thinking of many times in the past that the patch tool would have been the easiest way to fix a problem I had but ended up doing it some other way (that took 10 times as long and didn't work as well).
For homework this week I changed an image to black and white while keeping the depth and quality of the image. There are several ways of turning a picture to black and white but many of them make images look flat and not much definition to the image.  The second piece of homework was to create a simple composite or collage.  Here's a before and after of my black and white image as well as my composite images.  The first image is from Jardin de Luxembourg and the composite images are from the Place des Vosges.