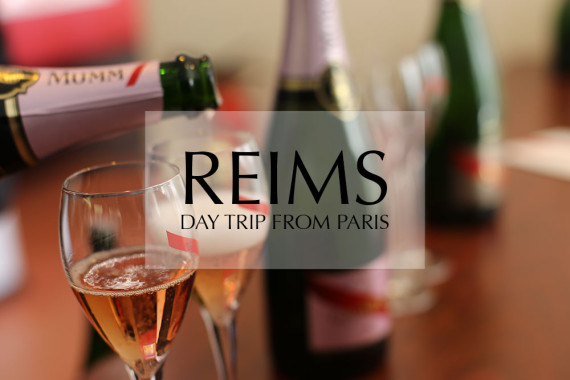 Reims, pronounced like "raans" is 45 minutes from Paris by high-speed train or about an hour and a half by car. Last summer Paris, in typical fashion, was having a train strike right at the same time we had made plans to take a day trip to the champagne region. We had already bought train tickets and made reservations to all kinds of fun places so we  were crossing our fingers for days that it would end before our trip but no such luck. The night before we were frantically searching the internet for rental cars. Dusty is amazing and some how navigated through the city of Paris with a rental car, picking Allison and I up at our front door, ready for our trip!
We spent the day touring champagne houses (Mumm, Veuve Clicquot, Martel), eating a fabulous lunch, and visiting Reims cathedral. Reims is charming and the buildings look aged, but much of the town was destroyed in the World War I, with additional damage taken in World War II.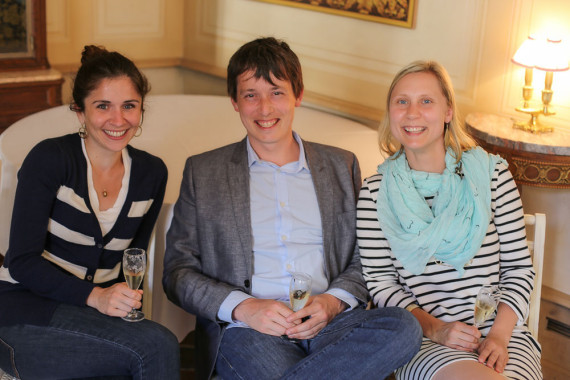 First, about the champagne! Only bubbly from this region can be called "champagne." The rest is 'sparkling wine.' Champagne is made from the chardonnay, pinot noir, and pinot meunier grapes. The aging and bottling process is very unique and different then how wine is made. I was absolutely amazed! "Riddling" is a process to remove the yeast from the aging champagne. The bottle is placed at a 75 degree angle and must be turned an eighth of a turn each day. This forces the dead yeast into the neck of the bottle to form a plug, which is frozen and popped out through a process called "disgorging." Here is a general overview of the Champagne tours and caves we visited.
Mumm: Very informative tour about how champagne is made!
Veuve Clicquot: Award for best tasting room and great story about the founding woman behind the empire!
Martel: Best "bang for your buck"!
After we made our rounds to the champagne houses and stuffed our bellies at lunch, we went to the Reims Cathedral, which was absolutely magnificent. It's over 800 years old! This cathedral is a great example of gothic architecture and is historically significant as the "Coronation Cathedral," where most of the kings of France held their coronation ceremonies.
Tips: Ricks Steve's France Guide does an excellent job of overviewing the region! His book helped with planning our champagne cave tours, touring Reims cathedral and getting around town. After our third tour, I was a bit tired of hearing how champagne was made so think about just going straight to the tasting room if you're going for more than a day and visiting several different places.