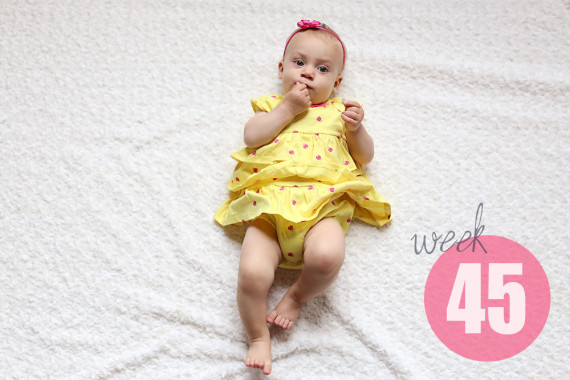 It's our first full week back and things are so much fun right now! Annabelle doesn't start back to daycare until next week so Annabelle and I've had some really great days at home together. She's getting much better at playing by herself and isn't nearly as attached to us as she was last week.  She's taking great naps! Two naps everyday, and for long stretches of 2-hours most of the time.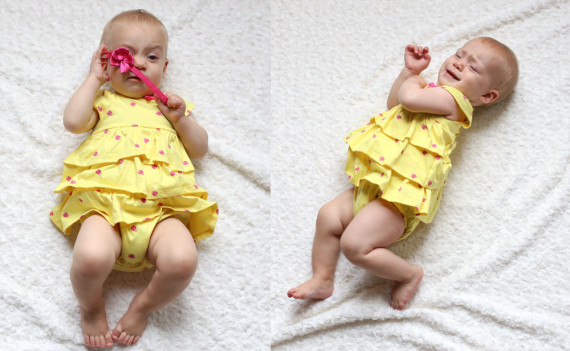 As you can see from some of Annabelle's photos, it's becoming more difficult to take weekly pictures of Annabelle. She's not too keen on lying down and smiling for the camera or for wearing the pretty bows that look so adorable with her outfits! We seem to take enough to find at least one good one but there are always the others where she's angry at us for laying her down for the tenth time even though she just wants to get up and run away or the ones where she's taking off those pretty bows.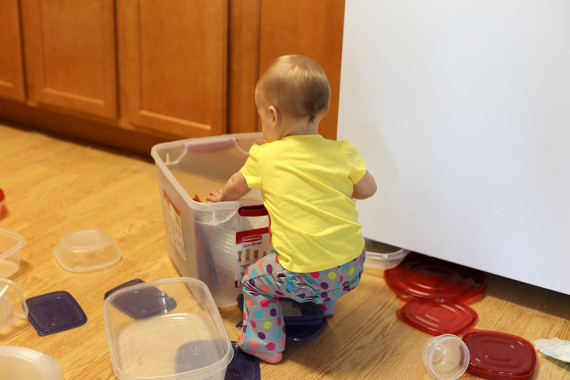 Annabelle has always loved spending time in the kitchen (probably because we spend a lot of time there) but she's now discovered Tupperware.  In fact, we keep them in a container sitting out so she can get at them whenever she wants. Speaking of kitchens, we've been lucky that up until now Annabelle didn't realize that she could actually open up the cabinets. Our cabinets don't have knobs so there was nothing to pull on! This week Annabelle saw Dusty open up a cabinet and that's all it took. We've now started baby proofing the kitchen cabinets!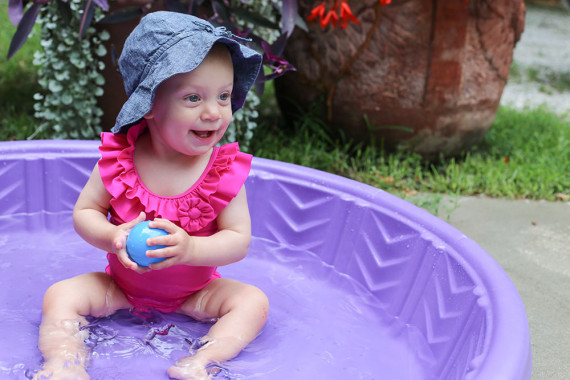 Annabelle swam for the first time this week. And loved it of course! She went twice! It's a bit scary watching her brazenly walk across the pool like its no big deal but it's fun to watch her splash in the water. We'll have to plan on swim lessons next summer!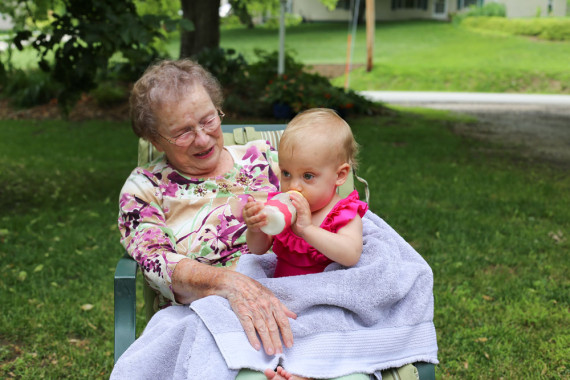 She's started biting again! It's only me though. And she only does it when she's hungry or tired and wants to be nursed. She'll bite my shirt and it's her way of saying, "Hey mommy, I'm ready for some milk and then to sleep." I haven't talked much about nursing in quite a long time. I have many conversations about nursing with my mommy friends though. I think it might be one of the top two things that I worried about the most as a new parent (sleep being the other).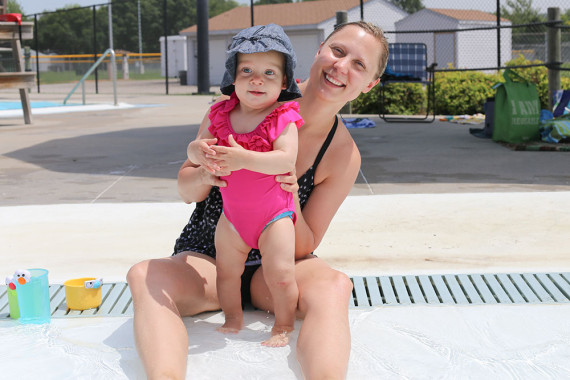 Right now I only nurse Annabelle in the mornings and before bed. She takes two or three bottles during the day. I haven't been producing enough milk since Annabelle was about six months old so we've been supplementing milk I've frozen and then while we were in France Annabelle started taking formula during the day. Now that we're back we're using up the rest of the milk stored in the freezer and then she'll go back to formula for the last month until we start her on whole milk. I'm starting to feel the pangs of sorrow for when she stops nursing. Sometimes it's the only time of day that she'll snuggle with me and I know I'll miss it tremendously.