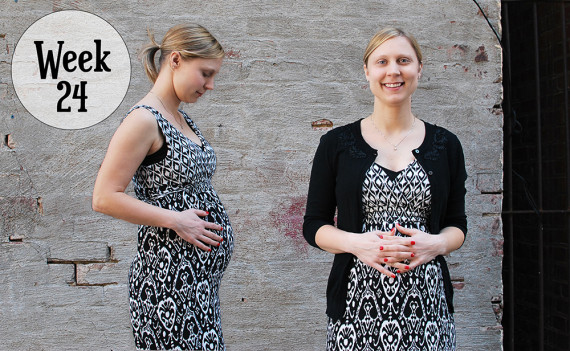 Our bambino is the size of a small cantaloupe this week!  She's growing quite fast in my opinion.  I remember the days when Dusty and I were comparing her to fruits like bananas or oranges.  It's hard to believe I have something the size of a cantaloupe in my stomach.
This week Dusty spent the entire week focused on Big Omaha while I spent most of the week trying to finish baby quilts for friends and finishing some things at work.
I don't have any really big pregnancy or bambino updates that's happened over the past week but wanted to share how I've been feeling this week as well as two of my favorite moments from this week.
Food: I'm in love with Kit-Kat candy bars!  They had mini Kit-Kats at the Big Kansas City conference in March and ever since I've become quite in love.  I haven't actually bought any (which I'm very proud of because I've been tempted) but every time I go to Dusty's office they have some left over from the event and then take a few home with me.  They had them at Big Omaha this week and I ate a small mountain worth of them.
Mood: This week was great!  Mentally and physically I'm feeling really good.  All of the pregnancy websites say some of the pregnancy symptoms at this time are swollen ankles and feet, leg cramps, back aches and stretch marks but those haven't quite come yet.  I'm sure they'll be here before I know it but I'm cherishing the good times while I still have them.
Best Moment(s) This Week: My favorite moments this week were going to the doctor's for my 24 week check-up and attending Big Omaha.  My belly is measuring like it should, which means the baby is growing, and her heartbeat sounds strong and steady!  I go back in for another check-up in 2 weeks for one of those pesky gestational diabetes screenings and to check-in with the doctor before we leave for our trip.
Big Omaha this year was another huge success! Every year I write a post about Big Omaha and how awesome it is getting to be a part of this amazing event.  You can't believe how much work goes into this three-day event but it's so worth the effort because such wonderful things happen!  Going is so special to me because it really showcases the reasons why Dusty, and so many others, do what they do.  I don't think everyone understands or gets why Dusty works as hard as he does, why he works so many long hours, or why he started his own company but attending Big Omaha and seeing all of the success so many have had or will have and what they are trying to create, including Dusty, makes me so supportive of him being an entrepreneur.
Looking Forward To: Looking forward to packing for our trip.  We leave in less than 2 weeks!
***My weekly posts are written during the week and then posted the following week, after I've taken my weekly picture and I've had time to edit them.***