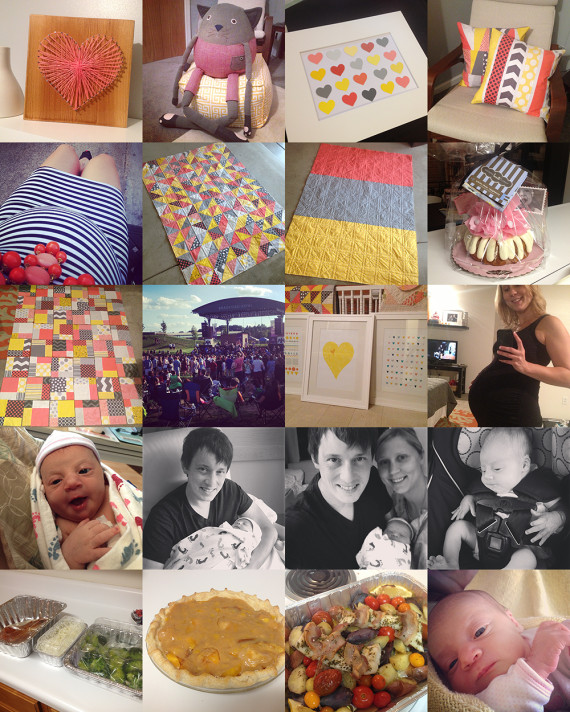 I thought it might be fun to share some of the pictures we take on our phones each month.  Even though the pictures we take with our "nice" camera are wonderful, we don't always get to capture the things we do on a random Tuesday.  For the month of August I only have pictures from my phone but in the future I hope to share some from Dusty's phone too.
1. DIY artwork for the nursery.
2. Gift from Dusty for the nursery.  We call him Pierre!
3. DIY artwork for the nursery.
4. DIY pillows for the nursery.
5. Baby bump 38 weeks. Date night with Dusty before Annabelle was born.
6 & 7. Quilt for nursery
8. Nothing Bundt Cake. I won a bundt cake at a baby fair!  This cake is the most delicious thing I've ever had!
9. Another quilt for the nursery. I had extra fabric and just couldn't choose one pattern.
10. Maha Music Festival.
11. Framed art for nursery.
12. Selfie of me before we left for the hospital to have Annabelle.
13. Our little Miss Annabelle welcomes the world!
14. Daddy & Annabelle
15. One of our first picture as a family of three!
16. Annabelle's first ride home!
17, 18 & 19. Our lovely friends brought us some delicious food the first few weeks after Annabelle was born.  All of the food was so wonderful!
20. Annabelle at 1 week old.