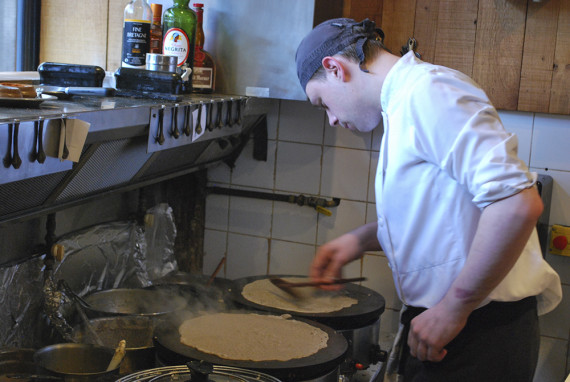 We've read that one of the best places in Paris to get a crêpe is the Breizh Cafe, located in the Marais.  So I put Breizh Cafe on my Paris Bucket List.  On our second day in Paris we thought we'd try to get our first crêpe fix and were disappointed to learn reservations are a must unless you go during non-peak hours but really, to be safe, just make reservations.  Reservations don't need to be made really far in advance, just the day before or even earlier in the day.  A few days later we went back with reservations and I must agree that the Breizh Cafe does have (in my opinion) the best dessert crêpe and a high quality galette.
"Breizh" means "Brittany" in the Breton language and the menu includes some of the highlights of the Brittany region. Breizh Cafe specializes in galettes.  Something I learned this summer is that a regular crêpe made with white flour is called a crêpe, and one made with buckwheat flour is called a galette. Desserts are usually served on regular flour crêpes.  Breizh galettes are made with organic buckwheat flour and filled with organic ingredients and the butter is Bordier (our favorite butter).  I don't think there is any explanation required as to how great for your health organic food and products are.  The beverage of choice is cider, mostly organic from small producers.
We went while Allison was visiting so Dusty and Allison shared some hard cider and both got one of the galette specials of the day that had smoked duck, white asparagus, egg, and cheese.  I ordered one of the more classic galettes with ham, egg, mushrooms and cheese.  For dessert Dusty got the recommended caramel au beurre salé avec chantilly crêpe (crêpe topped with caramel sauce and homemade whipped cream) and I got a crêpe with chocolate and whipped cream.
Hands down, Dusty's crêpe drizzled with salted butter caramel was the best crêpe I've ever had.  Now, there will always be a place in my heart for a nutella and banana crêpe from a street vendor but nothing will compare to the salted butter caramel topping at the Breizh Cafe.  I don't often regret not ordering something but this was one of those times (even though mine was excellent).  We loved the caramel au beurre salé crêpe so much that a couple of days before we left Paris we went back during one of those off hours and ordered two delicious crêpes drizzled with caramel sauce.  This is the kind of crêpe that you don't share because it's that good.  I'm still wishing we would have gone there at least a few more times.