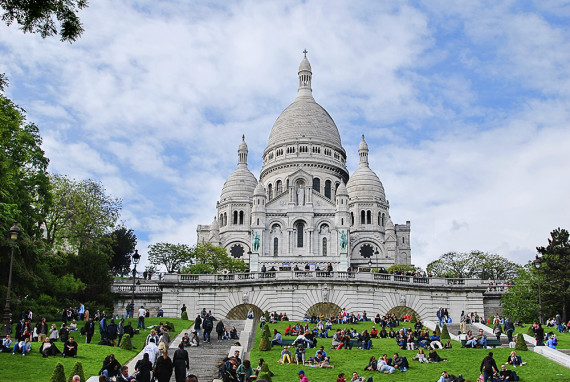 Sacré Coeur de Montmartre
As you probably can tell, we've arrived in Paris.  I took this picture last week (during one of the few nice weather moments) while Allison and I were sightseeing.  We'll be here for almost five weeks this summer (although more than a week has already passed) and I've put together a bucket list of the things I (and a few additions from Dusty) want to do while we're here.  If you can tell, many of them are related to food, which is really no surprise.
Lunch at Verjus
Hot chocolate at Angelina
Macarons at Carette in Place des Vosges
Gelato at Pozzetto in the Marais
Pizza at La Briciola
Crepes at Breizh Cafe
Eclairs at L'Éclair de Génie in the Marais
Steak & frites at Le Relais de l'Entrecôte
Dinner at Cafe Constant
Dinner at Frenchie
Dinner & drinks (for Dusty) at Frenchie Wine Bar
Dinner at Les Cocottes
Lunch at Septime
French Open at Roland-Garros
Walk the Paris Promenade
Go for a picnic and lie on the grass at Place des Vosges
Take a day trip outside of the city
Go on a date night with Dusty at least once a week
See the sparkling lights of the Eiffel Tower at night
Go to La Droguerie and Le Bon Marché Rive Gauche for yarn
Traditional Paris sightseeing
And then of course, there's everything else I want/need to be doing that's not necessarily Paris related.  Some of them include blog writing and making update to how our blog looks, photoshop class, working on my dissertation, knitting, exercising, preparing for the arrival of our bambino, and prepping for summer classes I'll be teaching when we return home.