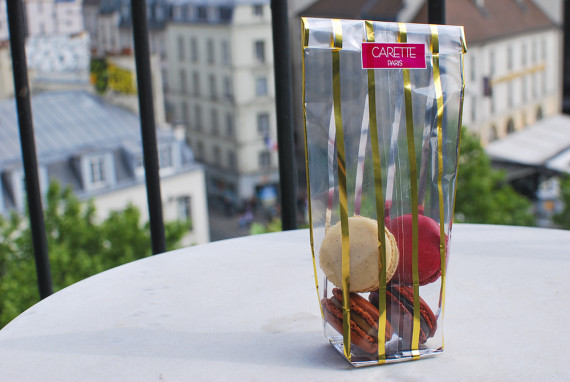 One of the things on my Paris Bucket List for this summer was to go for macarons at Carette in Place des Vosge.  There are many well-known macaron shops but the reason for this one being on my list is that I've been following a few Paris blogs which said that Carette's had some of the best macarons, and because the location is very near where we live that means I can walk there any afternoon.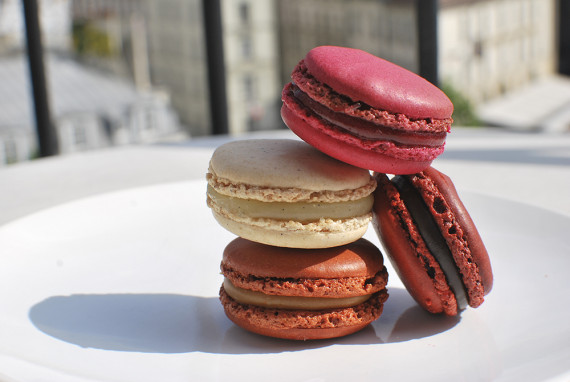 When I first heard of macarons three summers ago I thought they were actually talking about macaroons (spelled differently and most definitely different).  The macaroon I always envisioned was a type of cookie made with almonds and coconut.
And then there are the French macaroons, according to wikipedia they are a sweet meringue-based confection made with eggs, sugar, almond powder or ground almond, and food coloring. The macaron is commonly filled with ganache, buttercream or jam filling sandwiched between two biscuits.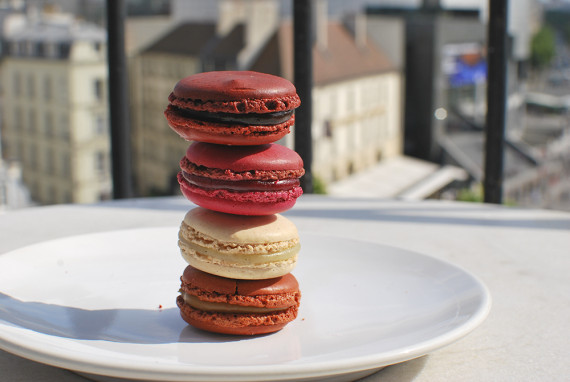 Last week when it was really nice out I went to the park (which was also on my Paris Bucket List) and before heading home stopped at Carette's to pick up a few macarons.  I picked up a caramel au beurre salé (salted butter caramel) , framboise (raspberry), chocolat, and vanille macaron.  Dusty and I shared them and our favorite was the caramel and then my second favorite was the raspberry.
Just for reference, these macarons cost approximately 1.50 euros each (that's about $2 each).  The macarons we had from Pierre Hermé while we were on our food tour were 2 euros each.  I've also paid 1 euro for them at an anonymous pâtisserie (pastry shop).  I've tried ones from three different shops now, at the three different prices, and I'd say that the two more expensive ones were of higher quality.  As far as which ones were the best, I think it just depends on which flavors you like best.  It's like everything else in life; it just depends on how much you want to spend.  I wouldn't mind trying macarons from other specialty shops like Hugo & Victor, Sadaharu Aoki, Jean-Paul Hévin, or Ladurée, which are also known for their excellent macarons.  I'm not obsessed with macarons but they are a French delicacy and I feel like I should know where the best places are to get them!