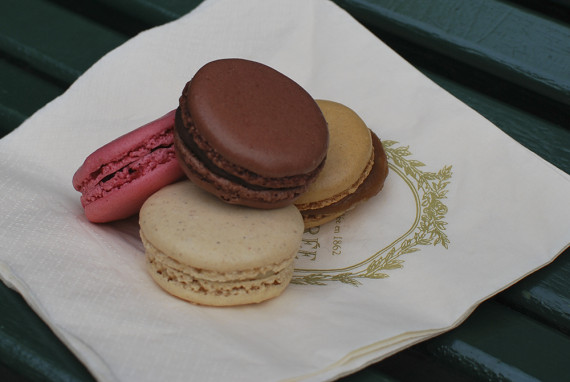 I've talked a lot about sweets in Paris, especially macarons.  One that I haven't talked about yet is the Ladurée macaron.  One of the landmark places to get macarons in Paris is Ladurée. In 1862, Louis Ernest Ladurée founded his bakery and in 1952, Ladurée's second cousin, Pierre Desfontaines, made their first macaron.   They are known as the inventor of the double-decker macaron and are still one of the best-known makers of macarons in the world.
While on a food tour in Paris we discovered that there's a little controversy surrounding Ladurée macarons because they are mass-produced.  As with so many products in France and Europe, locally sourced and produced is the ultimate goal.
Even with the controversy I wanted to try the famous Ladurée macrons and I was so glad we did.  I thought they were delicious and some of our favorites.  Dusty and I tried comparing the macarons we'd had from some of the different pastry shops to determine which was the best place for macarons but ultimately we decided that it just depends what flavor you're getting.  I would say that Ladurée is at the top of our list and had some of the best tasting macarons.  We tried four flavors, chocolat, vanille, caramel fleur de sel (caramel with salted butter), and the framboise (raspberry).  Our favorites were the caramel fleur de sel and the framboise.