One of the differences between our trip last summer in Lyon and this summer in Paris is the food.  For many reasons, the food for us has been different.  I'd say it's because of one or more of the following reasons 1) Paris has more food options, 2) we feel more comfortable going to restaurants, 3) we're here a week longer giving us more time to schedule dinners, 4) we're better acquainted with the food scene, and 5) we have a working iPhone (that has a map, making it easier to find places).
Dusty has been researching the Paris food scene for months and has a lengthy list of places we need to eat.  They range from a food truck (which we ate at today) to some of the highly rated restaurants in the world.  Some you must make reservations for months in advance and others you can't even make reservations for but must stand in line with other food-loving patrons (while drinking wine to keep you busy).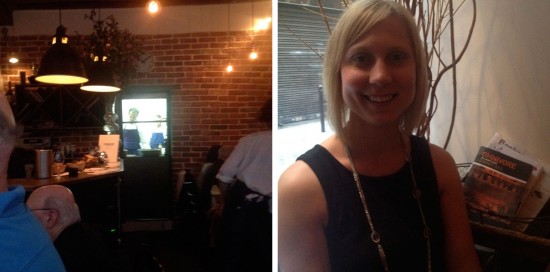 We've went to several restaurants since we've arrived including a couple in London but here's one of my favorites so far.  Gregory Marchand is the chef and owner of Frenchie, a small place with just a few tables that serves a three course prix fix. Here's a picture of the window to the kitchen and a picture of me sitting by the window.  We had a perfect seat that enabled us to see the entire place including what was happening in the kitchen window. The window spot also allowed us to see and hear people trying to get a table, making it even more special that we were one of the lucky ones (and confirming how much we loved the food).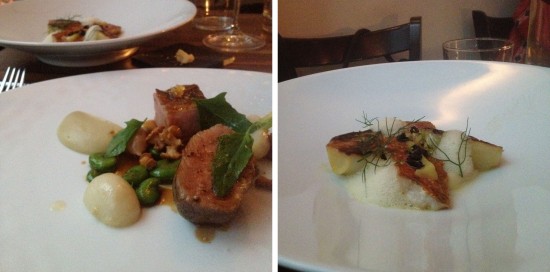 left: Dusty's lamb dish; right: My amazing fish dish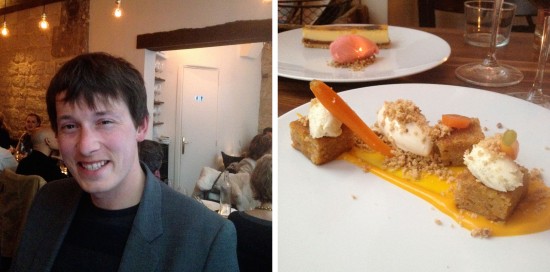 right: Dusty's carrot cake for dessert and my rhubarb tart