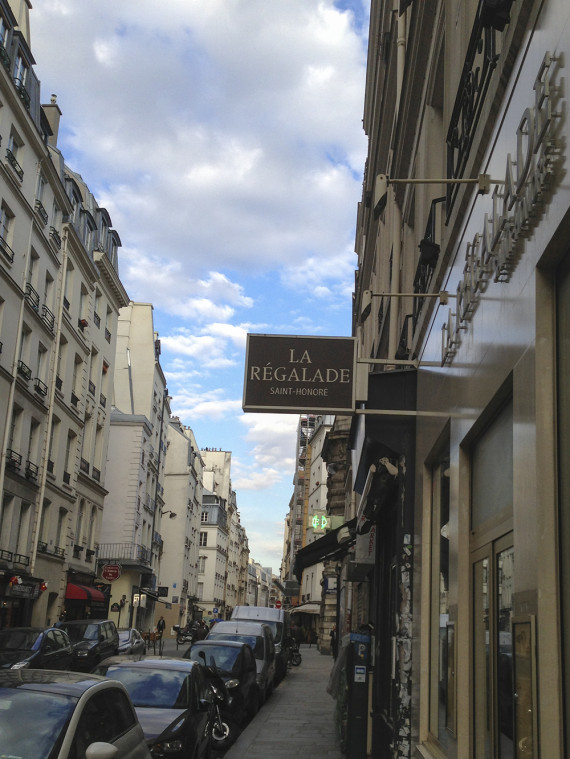 One of my favorite places to eat in Paris is La Regalade.  La Regalade bistro has three locations, it's original on the left bank in the 14th arrondissement, one near the Louvre (La Régalade Saint Honoré) and a third (La Régalade Conservatoire), part of a new boutique hotel which just opened this year.
Dusty called and made a reservation but the only time they had available was 7:30pm.  We knew it was going to be an early dinner but we were willing to sacrifice because it's such a great place.  We showed up and after a little confusion we found out that someone else had taken our reservation (I'm assuming they had made a reservation at one of the other locations and didn't know it).  They were very apologetic and asked if we could come back at 9pm.  We went to a nearby restaurant/bar for a drink, Willi's Wine Bar.  Willi's has been around since 1980 and although we just had drinks, the food looked spectacular.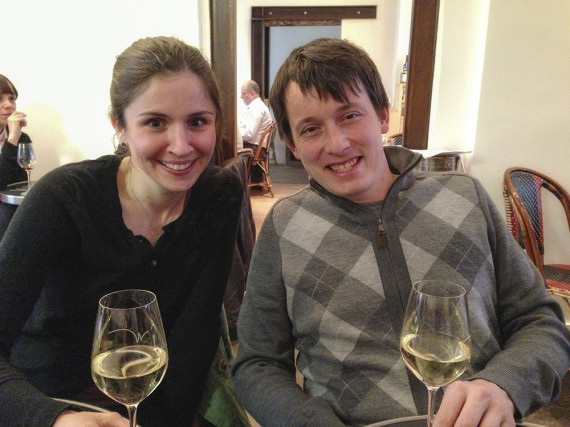 Allison and Dusty enjoying a glass of wine at Willi's before we went back to La Regalade.
La Regalade serves a delicious prix fixe menu of seasonal food for approximately 35€ that includes a starter, entree and dessert.  One of the things I love is that everyone starts with a communal housemade paté that comes in a hug terrine and a jar of cornichons (pickles).  You eat as much as you want and they take it away when your food comes.  Some might be put off by the fact that the same terrine is then given to another guest who might come in a little later but I'm not at all and love that they can serve it this way.
Of course we didn't take a picture of the menu so I can't tell you specifically what everything was called but Dusty started out with squid ink risotto with calamari, I had a fresh crab salad, and Allison had fresh vegetables on a thin tartlet.  Everything was well executed and so very delicious!  Before our starters came out we also were brought out a small cup of some type of cazpacho ceviche (which I'm sure happened because of the reservation issue).  I don't traditionally like cold soups but this was an amazing tomato soup with avocado and shrimp at the bottom that you mix in with each bit.
For our main courses Dusty had duck and I had sea bream with artichokes.  Both were cooked perfectly and absolutely wonderful!
To end the meal Dusty and Allison had the absolutely best riz cuit au lait (rice pudding with caramel sauce on the side–my favorite in Paris) and I had the souffle chaud au Grand Mariner (Grand Mariner soufflé), knowing the rice pudding comes in a communal jar and there would be plenty for me.