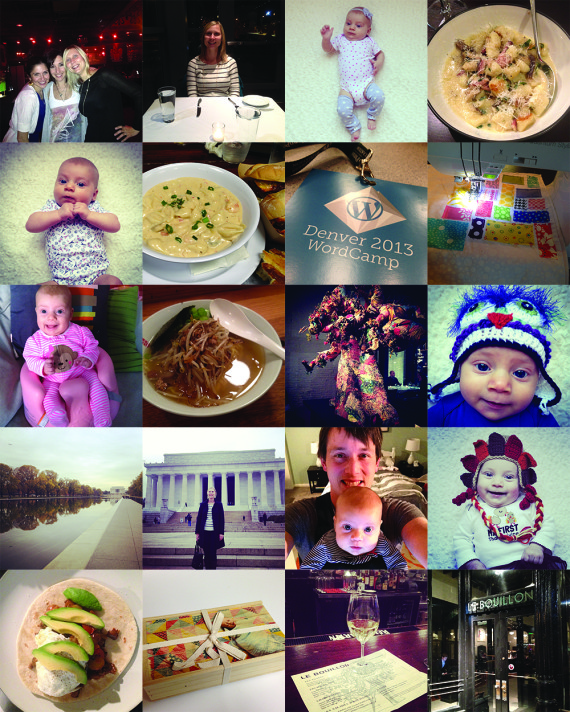 1. Celebrating a friends new job.
2. Date night at Sage Student Bistro.
3. 10 weeks old.
4. Gnocchi with mushrooms, lardons,and a white wine sauce.
5. 12 weeks old.
6. Best Lobster & Shrimp Mac & Cheese at Block 16.
7. Dusty at Denver Wordcamp.
8. I've been trying to sew a little when Annabelle's napping on the weekends.
9. Happy Annabelle.
10. Ramen in DC at Daikaya.
11. Le Buillon. Dusty went to a pre-opening fundraiser dinner.
12. 13 weeks old.
13. Lincoln Memorial Reflecting Pool. Sightseeing in DC.
14. Lincoln Memorial. Sightseeing in DC.
15. Dusty and Annabelle sending me a selfie while I was in DC.
16. Our little turkey!
17. Homemade mexi-hash. Dusty and I had a really good breakfast dish in Minneapolis and we've started making it at home on the weekends.  It has potatoes, garlic, onion, sausage, sriracha sauce, cheese, tomatoes, avocados, and over-easy egg.  It's very delicious!
18. Gift from the wonderful photographers who have taken many of our pictures lately and our friends, The Mullers.
19. Drinks at Le Buillon (new restaurant in the Old Market owned by chef Paul Kulik who owns one of our favorite Omaha restaurants, The Boiler Room).
20. Date night at Le Buillon.