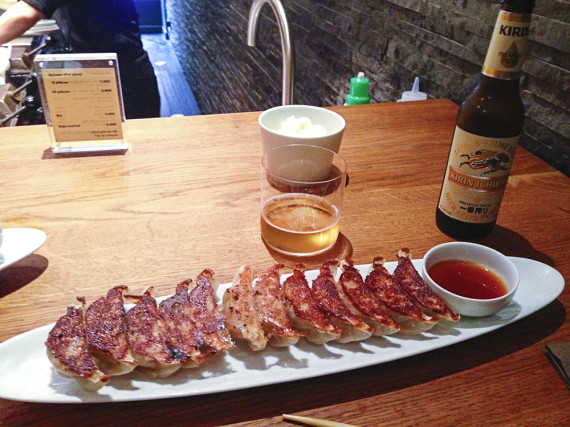 I love having a husband who enjoys food and loves trying out new restaurants.  While in Paris, one afternoon we went for a walk and ended up at this fabulous restaurant known for their gyoza, appropriately called the Gyoza Bar.
If you don't know what gyoza is, which I didn't before going, gyoza are crescent-shaped pan-fried Japanese dumplings, and  in other words, potstickers.  When Dusty said we were going to place that was known for gyoza I thought that gyoza was one of their specialities.  I wasn't expecting that this was the only thing they served.  I wish there were more place like this in Omaha, a place known for one thing, that serves that one thing to perfection.
The restaurant is tucked away in the beautiful Passage Panorama.  The space was very small but zen (what I mean is that it didn't seem cramped like you'd expect, it was very calm and relaxing).  The entire place includes counter seating for 12 around a bar that holds the very small kitchen (although there's not much cooking going on since there are only three items on the menu).  We also saw people coming and going out a door in the back so I'm assuming there's a small amount of setting in another room as well but not much.
The three menu items include rice, sesame marinated bean sprouts and a choice of either 8 or 12 gyoza.  The dumplings are made with ground pork loin from a star butcher in Paris and everything is prepared fresh and in-house.  The dumplings are grilled to order in one of 4 cast-iron dumpling pans.
I was so fascinated to watch them prepare the gyoza.  There's a special pan that is oiled, then go in the dumplings, a little water is added, and the whole thing is sealed for less than 10 minutes. Out comes a perfect dumpling that's crisp on one side and steamed on the other. And then there's some delicious ponzu sauce that comes on the side for dipping.
Dusty ordered 12 gyoza, I ordered 8 and we both ordered some rice.  We had a wonderful lunch and every time I see potstickers on a menu I think back to our delicious meal at the Gyoza Bar.